Looking for a way to unleash your inner child and have some unforgettable family fun? Well, dads, get ready to embark on an epic adventure because we've compiled a list of the coolest theme parks in the world just for you! From heart-pounding roller coasters to immersive experiences, these theme parks are guaranteed to make your dad dreams come true. So grab your kids and let's dive into the excitement!
The United States
Walt Disney World Resort (Orlando, Florida): A magical place where dreams come true! Explore multiple themed parks and create memories that will last a lifetime.
Six Flags Magic Mountain (Valencia, California): Get ready for adrenaline-pumping rides that'll leave you breathless. Don't forget to hold on tight!
Cedar Point (Sandusky, Ohio): Known as the "Roller Coaster Capital of the World," this park boasts some of the most thrilling coasters on the planet.
Universal Studios (Los Angeles, California): Immerse yourself in movie magic and go behind the scenes of your favorite films.
Busch Gardens (Williamsburg, Virginia): Experience a thrilling combination of world-class roller coasters and up-close animal encounters.
Europe
Europa-Park (Rust, Germany): Explore this massive park with themed areas representing different European countries. It's like a mini European vacation!
Tivoli Gardens (Copenhagen, Denmark): This charming park offers a mix of thrilling rides, beautiful gardens, and live entertainment.
Efteling (Kaatsheuvel, Netherlands): Enter a fairytale world filled with enchanting attractions and magical experiences.
PortAventura World (Salou, Spain): Go on an adventure through different themed lands inspired by civilizations from around the globe.
Gardaland (Castelnuovo del Garda, Italy): Discover incredible rides and attractions in Italy's largest amusement park.
Asia
Tokyo Disneyland (Tokyo, Japan): Step into the magical world of Disney right in the heart of Japan's bustling capital city.
Universal Studios Japan (Osaka, Japan): Get ready for thrills and excitement as you experience some of Asia's most iconic movie-themed attractions.
Ocean Park (Hong Kong): Enjoy breathtaking ocean views while experiencing thrilling rides and unique animal encounters.
Sentosa Island (Singapore): This island paradise is home to Universal Studios Singapore and other exciting attractions that are sure to impress.
Everland Resort (Yongin, South Korea): Discover a colorful world of rides and entertainment in South Korea's largest theme park.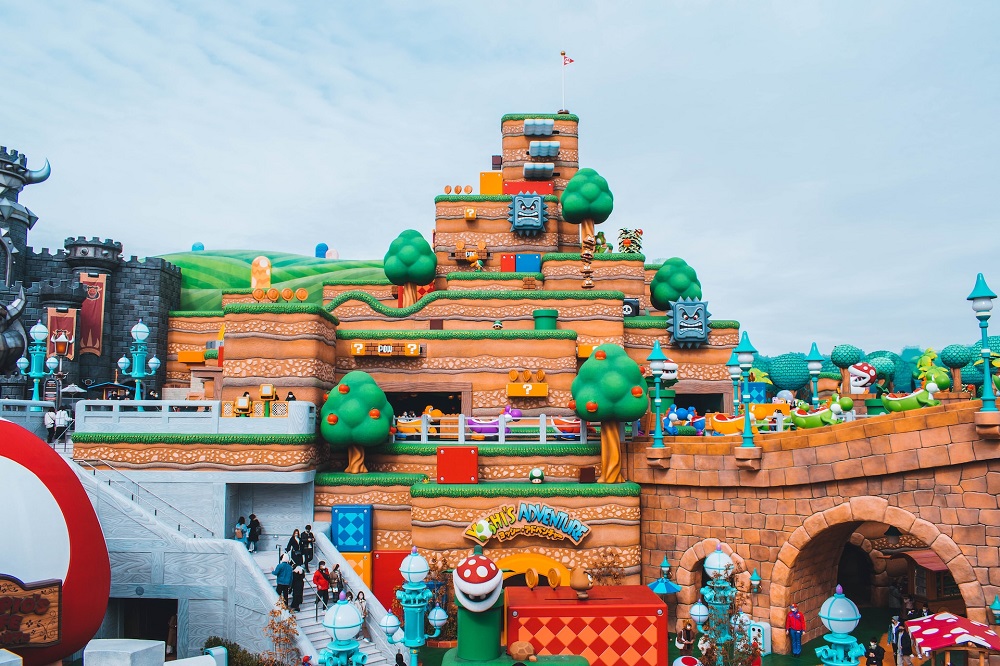 Australia
Warner Bros. Movie World (Gold Coast, Queensland): Experience your favorite movies brought to life with thrilling rides and live shows.
Dreamworld (Gold Coast, Queensland): Dive into the adventure at Australia's largest theme park, featuring epic roller coasters and wild animal encounters.
Luna Park Sydney (Sydney, New South Wales): Feel the nostalgia as you enjoy classic amusement park attractions with stunning views of Sydney Harbour.
The Big Banana Fun Park (Coffs Harbour, New South Wales): Enjoy a tropical-themed park with water slides, mini-golf, and an iconic giant banana.
Adventure World (Perth, Western Australia): Get ready for a day filled with water slides, thrilling rides, and endless fun for the whole family.
And remember dads…
It's never too late to have a little fun! So pack your sense of adventure and get ready to create lifelong memories at these amazing theme parks around the world!
We hope this list has inspired you to plan your next family vacation. Whether you're seeking adrenaline-pumping thrills or magical experiences, these theme parks will not disappoint. So go ahead and make your dad dreams come true!